Post by Jo Anna Rothman.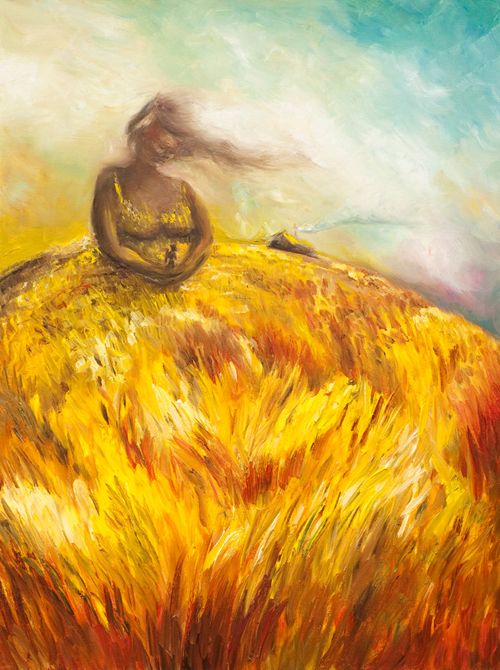 print by DachaStudio on etsy
The End of The Search
So much of a life can be spent searching. Seeking. Looking under the rug and behind the couch for these things we yearn to experience. God. Love. Connection. Inspiration. The pursuit can get frenzied. Knowing what we want is out there. Feeling the possibility of it all, but not getting to touch it. To hold it. To really live it. So we dive in deeper. Rummaging around in the ancient texts or sacred spaces or messy closets of our interior. A whole life can be spent in the looking. The journey is exciting, yes...but is it worth it if the treasure is never found?
I remember plenty of times where I tried my damnedest to have the right thoughts and do things the right way...so that I could feel the connection to source that I wanted. I searched. I read. I took classes and courses. I had moments. Moments where I had what I desired. Where I felt whole. It was great. Then, in my perception, it would fade. I wanted more, so I jumped ahead. Looking and looking for extra doses of the magic pixie dust that must have been sprinkled down upon me.
I looked and looked but couldn't understand why I couldn't hold onto the feeling of love I craved. The moment the wave of the learnings would crest and instead of holding space I would run. Instead of trusting, I would be onto the next the thing. Looking for more and more...
It's not that there is no gold at the end of the rainbow. It's that there is no rainbow. No path. No way. While that sounds desolate, it is not. That which we seek is all around us. It's here, right in this breath. In this moment. There is nothing to look for. When we stop the mad dash of the search, we make room to actually find.
The search is old school. It's a romantic notion that we don't need to carry out any more...the spiritual seeker roaming the universe in pursuit of wholeness. Happiness. Having amazing experiences but never quite grasping onto what they desire, until that one moment of surrender and enlightenment. It's a roller coaster. It can be fun. But what if we could have that same fun without the struggle? What if each moment, even the challenges, served only to open us up to more and more of what we crave.
There is nothing that you need to seek. Spirit is here. Love is here. Connection, creativity, inspiration...all right here. Right here if you are willing to receive them. Right here if you are willing to slow down and be present. Whatever answers you are racing to find, you can... if you are willing to give up the search. In doing that you create space. You create time. You create a window for you to really be in the treasure you have been so valiantly looking for.
What if, you stopped seeking? Stopped seeking God. Stop seeking love. Stop seeking the creative muse. Money. Connection. Answers to the great mysteries of the soul. What if you gave up the search? And let yourself actually find it.
I'm Jo Anna. Jo Anna Rothman, MA if you are being fancy. I'm a Wizardess of love. Mistress of change. Conjurer of Electric Creative Wholeness.

I am here to invite and inspire you to live the best human experience ever. I connect folks to their soul, their purpose, their absolute and amazing joy. I coach. I write. I facilitate the amazing Receiving Project.  Most of all, I have a damn good time!

To read more of Jo Anna's guest posts on Kind Over Matter click here!