Post by Rachelle Mee-Chapman for the Kindness in Business series.

print by ValeriaH on etsy
Starting Your Own Business is an Act of Kindness
Friends, what I want to tell you is this.
It is not selfish to start your own business. It's an act of kindness to yourself, and to others.
Let me tell you a story...
A long time ago I was a pastor. I fought hard to get the gig. First there were three years of graduate school, with a master's degree that cost more than I would ever make in a year (or two, or three) of church work. Then there was the fact that the denomination I was a part of was not currently ordaining women. And I had two children two and under and the pay didn't even cover the cost of my childcare, much less contribute to our household budget.
But I
loved
the work of pastoring. I loved working with people who wanted to live intentionally. I like talking about how-we-want-to-be. I enjoyed hospital visits, and blessing newborns; sending kids off to college and officiating weddings. I liked teaching, and discussions, and all of us trying to move forward together and do a little good in this world. So I studied, and negotiated; crossed my fingers and prayed.
And then I got the job.
I quickly realized that what I
wanted
to do was be a travel companion with people in their spiritual journey, regardless of where that journey was taking them. What I
got
to do was attend meetings, schedule volunteers, clean the Sunday school room, and make sure everyone stayed "on message.".
Thing weren't working out like I thought. But I had so much invested in getting there that I stuck it out. I tweaked my job description. I tried out different tasks within the organization. I shifted, and sorted, and re-organized. But no matter how I put the pieces of my job on the shelf, I still didn't like what I was doing.
By happenstance (or fate), the man who was painting my house at the time was a former pastor. One day I looked up at him on top of his ladder and asked if I could take him to lunch and pick his brain. He looked surprised.
"It's not every day a pastor asks a house painter for advice." he quipped.
"It's not every day a woman ends up as a pastor." I replied. "I need help."
The burger joint around the corner was barely larger than a food truck. As we sat in that tiny space I told Jim all my troubles, painting a picture of the kind of church I wanted to pastor and laying out the discrepancies between what I felt called to do and what I was actually doing. Then he said:
"Why don't you just build the kind of church you'd actually want to go to?"
I stopped chewing and just stared at him.
"I can't," I said, after I finally remembered to swallow. "There's theology, and the ecclesiastical structure. There's all that history, and accountability, and…you know…
leaders
you have to respond to. Wouldn't it be selfish, to just make something up because it's what
I
would like?"
Jim sat back, crossed his arms across his chest and looked at me. "You know your church history," he said, "That's what the men have been doing with churches all along. Why shouldn't you? You're not called to pastorship. You are called to leadership. So lead."
He went back to eating his fries while I stabbed at the ice in my empty glass with my straw. It couldn't be that simple.
Turns out, it was.
There was a big gap—a BIG gap—between the time Jim spoke that truth to me and when I finally accepted it. I spent another couple of years working impossible hours; living out of alignment with the things I held dear; and trying, desperately trying, to make things work. In the process I swallowed my words. I ignored my need for rest. I pushed myself to keep up with the childfree men I was working with. Finally, my body collapsed into a cycle of daily migraines that never let up. It wasn't until I was lying on a hospital bed having 30 injections of Botox shot into my scalp that I realized something:
I was not being kind. Not to myself. Not to my parishioners. Not to the call of my life.
Eventually I found the bravery to leave the church and create a compassionate place for other people like me—people who were experiencing a disconnect between the "faith of our fathers" and their current life of the soul. With experimentation and false starts I wandered around the world of spiritual direction, life coaching, and online business until I pieced together a business model that worked for me – one part online soulcare community, one part coaching, two parts writing. I started being kind to what I came to refer to as "my little baby soul," and in doing so, created a place that was kind to others.
Now creative misfits and soulful refugees find a shelter in my little on line Flock. Women with eclectic spiritual paths find support and encouragement in the community we have formed together. And people who have experienced spiritual mistreatment a have place to rest, and to heal.
Too often women who are starting their own business think they are being "too difficult," We think if we could just bend ourselves into a more acquiescent shape, we could tow the line and stay where we are. None of that is true.
Creating the "church" I would like to go to was not selfish. It was an act of kindness—to me, to the like-minded souls who were searching as I was. Whatever
you
are called to create is an act of kindness as well.
If there is a call in your heart, a tug on your life, a fire in your belly –I urge you to follow it.
Listen to it, and nurture it.
Let it develop.
Watch kindness come out of it.
Be glad.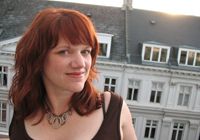 Rachelle Mee-Chapman practices a blend of spiritual direction and life coaching for folks who self-define as Spiritual but Not Religious and the Formerly Churched. You can join her in Flock, her online soulcare community, or find out more about her work at Magpie Girl: Care for Creative Souls.(Welcome Home!)