Post by Eileen Pardini for the Love for Love series.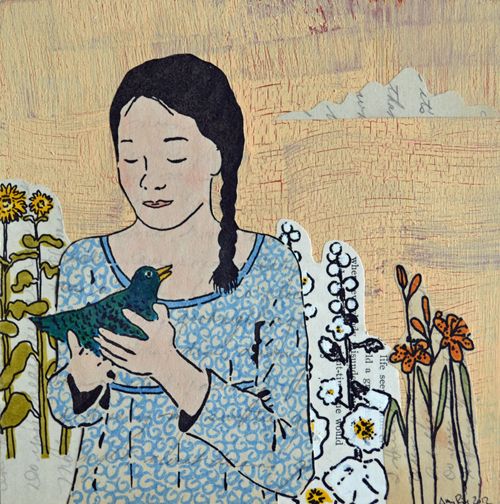 print by amyriceart on etsy
Earthkeeping as Sacred Purpose: Deep Listening and Tending to All Our Relationships
I've been feeling Her sorrow for some time, feeling Her deep heartache, Her cries for admission into our hearts.
For so long, She has felt unseen, abandoned, diminished, trounced.
She has given everything and continues to give, despite our thoughtless neglect.
Without Her, we could not survive. Without Her soil, water, air and sunlight, we would cease to exist. This bears repeating...
without Her, we could not survive.
She sustains us, nourishes us, and provides startling beauty. And yet, we carry on while the glaciers melt, the seas rise, forests fall, the temperatures warm, and super storms become commonplace.
What I know in my heart, is that
we
are the key to turning this around.
We Earthlings
are being called,
right now
, to awaken and transform.
I believe in my heart that we are being called to choose love, radical love, and to demonstrate this love, express this love, our reverence, and our gratitude to Mother
and
to each other.
I believe that our sacred purpose is to devote ourselves to tending to all of our relationships...with ourselves and each other. This includes animals, the plant kingdom, the winged ones, the creepy crawlers, our fragile ecosystems, and those who have come before us, our ancestors.
I believe we are being called to remember reverence, to become gratitude, and to measure every thought, spoken word, and action by whether or not it is beautiful.
What is the most important skill we can cultivate to bring about this transformation?
I believe it is deep listening, a listening that is so present, so quiet, whole-bodied, wholehearted, still, and grounded in love and reverence, that we all feel seen, heard and valued beyond question.
To do this requires purity of intention, mindfulness, s l o w i n g down, and the knowing that this is our sacred purpose here--to deeply listen, to love, and to express gratitude for all that is sacred.
A wise mentor of mine, Kimmy Johnson, gently advises to
begin where you are standing.
Begin now. Begin everywhere. Just begin. It's time, for She is supremely worthy of our love, gratitude and reverence.
Come together. Right now. Over me.
—
The Beatles
Eileen Pardini, M.A., is an educator, author and earthkeeper. She holds a master's degree in Consciousness Studies from John F. Kennedy University, and a bachelor's degree in Interpersonal Communication from California State University East Bay. She is an adjunct professor of professional development courses at John F. Kennedy University, and facilitates her own workshops and retreats centered around the practice of reverence for a meaningful life and a more compassionate, sustainable Earth.

Connect :: Website :: Email :: Twitter ::