Post by Lori Anderson for the Kindness in Business series.

Be Good To Yourself and Your Business Will Bloom
When we're in business for ourselves, we are the be all, end all, of the business. The water cooler gossip, the dude who has to refill the printer paper, the person who picks up (and answers) the mail. When we work from home, we also have other things that distract us -- the latest on TV, music, the neighbor who wants to know if you can watch her kids since you "must have lots of time working at home all day".
And who EVER heard of an eight hour work day when you work for yourself? Or a five-day work week? I've worked on almost every single holiday in one form or the other, now that I think of it.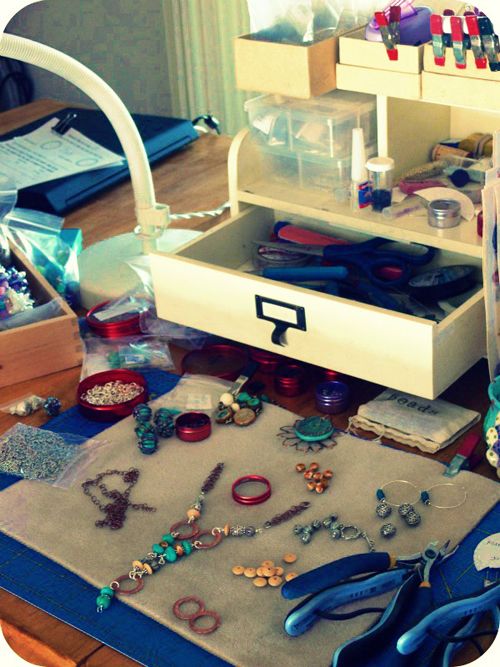 One thing we entrepreneurs often forget to do is
take time out for ourselves
. Make it an appointment if you have to! You have to take care of YOU before anything you make or write makes any sense. And there are so many little ways we can sabotage ourselves without even realizing it. Let's tackle those!
1.
Do what you love. If you don't love it, don't do it.
Now, I'm not talking about "oh I hate to go to the post office so I'm going to quit doing that" (although most post offices these days WILL pick up, did you know that?). I'm talking about your actual business. I'm a jewelry designer, blogger, and author. If I find myself dreading custom orders -- hey, girl -- time to stop doing custom orders! Fill in that space with something you DO love to do, and chances are, your customers will feel that love emanate from your work and love it, too.
2.
Quit comparing yourself to others.
This is my hardest nut to crack. But it's so important to realize we are ALL unique people with unique stories and unique ways of telling those stories. There's nothing wrong with scoping out the competition -- some of my absolute favorite jewelry I own and blogs I read are from what some would call competitors. But I don't like to compete with anything but my last creation. It's a constant struggle, but I try to keep my heart open to accepting what I can do, improving on the things I want to improve upon, and not forcing myself into someone else's mold. Let it all just GO.
3.
Allow yourself to make mistakes.
No one, and I mean NO ONE, is perfect. Don't wallow in it. Acknowledge it, take a break for a bit, rejuvenate yourself (my favorite? Hitting the book store!) -- and then move on. Try to find the wabi sabi in the mistake. Some of my most beautiful jewelry creations have come from a big fat boo-boo.
4.
Take a breather.
Entrepreneurs never take vacations, it seems. You may not be able to take a week off and lounge on the beach, but you can take a fifteen minute coffee break (away from the office!), a weekend hunting for inspiration while shooting tons of photos, or even spending the weekend in bed with a book (my favorite!). It's important to do something different from your normal job so you can learn more about yourself. Who knows? These breaks from the job may open up entirely new creative outlets for you.
"You yourself, as much as anybody in the entire universe, deserve your love and affection."
- Buddha