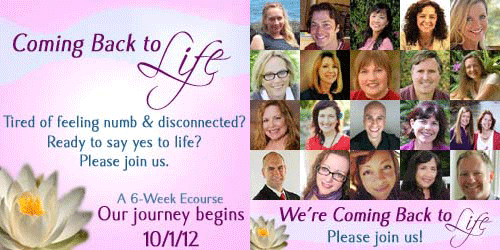 The Coming Back to Life Ecourse begins on 10/1!
This 6-week journey is for those of us who have ever felt disconnected from life – from our soul. It's for those of us who have felt our light dimming. It's for those of us who know that there is more to life than simply getting through the day.
This course is for those of us who are ready to plug back into this magical universe, reconnect with our soul, and open our hearts again. It's for those of us who are no longer willing to just "get by" and sleepwalk through our days.
It's for those of us who are ready – truly ready – to start living fully.
This course includes
guidance from Jodi Chapman + over 35 of her soulful friends (including ME!)
. It's packed with tons of goodies –
a soulful workbook filled with over 150 pages of goodness, over 30 heartfelt videos, 9 guided meditations, a Private Facebook group, weekly chats, soulful art, + over $175 in bonus gifts that you'll receive immediately when you sign up!
If you're ready to:
♥ live fully and love fully.
♥ take responsibility for your life.
♥ push past your fears & reach your dreams.
♥ forgive, let go, and move forward.
♥ see the world with childlike wonder.
♥ reconnect with your soul.
♥ believe in miracles again.
♥ open up to this amazing universe.
♥ join a community of loving souls.
♥ be completely authentic and vulnerable (in a good way).
♥ join a course that comes from the heart and soul.
♥ come back to life.
…then please join this 6-week course!
We all have a light inside of us that shines so brightly, and this course will help you remove some of the veils that have been covering your light.
Isn't it time you allowed yourself to shine? To live fully? To feel completely alive?
Isn't it time for each of us to allow ourselves to have that?
Please click here to learn more and sign up!
Special Offer!
Use coupon code: backtolife to receive $20 off the course!
Plus you'll instantly receive over $175 in bonus gifts when you register!
P.S. – Inside this course are many friends of KOM: Lori Portka, Julia Fehrenbacher, Alia Indrawan, Bernardo Mendez, and Amanda Fall!