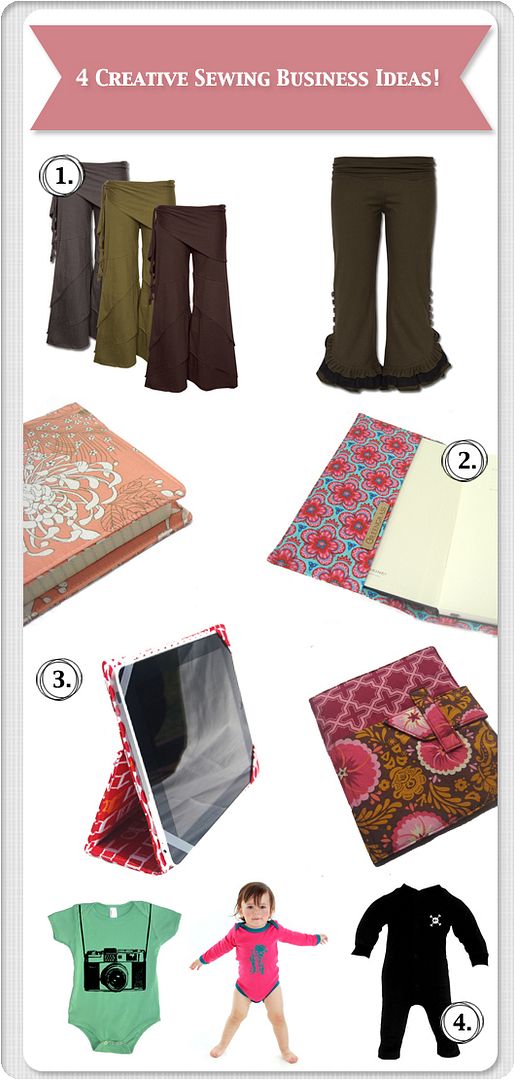 Can you rock a sewing machine? Awesome! I wish I could!
I've tinkered with a few
sewing projects
through my years but I've always resorted to hand sewing because I just can't wrap my head around working a sewing machine (like threading one!)
Here are 4 unique sewing project ideas that if I could sew, I would or would have sewn!
I've either bought or looked for these & there wasn't a whole lot of vendors to choose from. It's not that I didn't LOVE the products I've found, it's just that I would have liked to have more options to choose from! (First world problems, I know. *blushing*)
1. Comfy + Ruffled Boho Pants : I absolutely love-love-love everything about Soul Flower, including their tagline : Cool threads for kind heads! My wardrobe houses quite a few of their beautiful pieces, including a pair of their Waves of Freedom Pants. I wear them all the time, they are the comfiest pants EVER! I am waiting to gift myself with their Frillay Funkay Crop Pants for my birthday. I went on a search for different styles of these pretty ruffled pants & didn't come up with much. Well, I did find a few places that sell them but they were either out of my price range or country! So, yes... any awesome, reasonably-priced Boho Shop in the US would grab my attention right-quick!!


2. Large Moleskine Covers : I heart Moleskine Planners! I would spiral into insanity without mine, FACT! I just bought a new planner, slightly different from the one I used last year, one week is spread across two pages instead of one, LOVE! The only color in that style is red, so I went on a hunt for a fabric cover for it, one that I can reuse year after year! I found ONE (gorgeous!) shop that sells fabric covers for large Moleskines, ONE! On the whole internet! Now, maybe I didn't search long & hard enough but when I had the thought to buy a cover for it I just I expected to be blasted with pretty choices. Nope, the lovely Liz from Green Grass is holding the market right now, & she's amazing! I convoed her asking for a custom cover, she got back to me sweetly & swiftly! I can't wait to get it! To be completely honest though, Liz is in the UK, had I come across work that was as high-quality as hers & that seller lived in the US, I would have purchased from them based solely on shipping costs & time.


3. Functional + Kid-Friendly + Stylish iPad Covers : I bought a cover from Katie's Modern Nest & love it. Also pictured above, a beautiful cover from MyoraNoelandCate! I haven't found many that are stylish + kid-friendly, you know, for when ze adults take it out & about. The built-in stand is a must because we use ours to watch Netflix sometimes! :)


4. One Piece Outfits for Older Children with Special Needs : The rest of the ideas above, I can live without, truly. This idea though, there is a HUGE need for these! Why one piece? A good lot of children with special needs like to disrobe & disrobing leads to other messy incidents that I won't get into here but if you hop on over to iKids Fashion, you'll learn why quickly.

I searched for hours & hours one day & finally came across iKids on eBay. I was & am soooo completely grateful for them. We've spent hundreds of dollars there over the last year or so buying Zenin these outfits. Here's the thing though... we've had to cut the sleeves & legs off of them for Summer. He wears one or two everyday, all day, unless he goes to school or we go out. I'd love it if we had more styles & colors to choose from for home & for when we do go out. I'm shocked that you can't buy onesies for older children, they would be perfect for Summer paired with shorts!

I'm trying to hook up with a local seamstress, I came up with the idea of taking some of Kurt's old t-shirts & having them cut & sewn into one piece short rompers for play! I even went as far as buying the snap strips. (Feel FREE to steal that idea & contact me if you take action! I'd be your best customer until Zenin grows out of this behavior!)

iKids is definitely on the right track here, I'm not sure where we would be without them but this market is UNTAPPED! Choices in size, colors & styles would be so totally amazing! People are in need now. Do you have the skillz?!

Picture above, clothing from : Lastearth, SpottyFroggy & Lowleepop.

Do you have any unique sewing business ideas?
Maybe you've seen vendors that sell something similar to what I featured above?
Maybe you want or are in need of something that you can't find?
I'm all ears, let me know in the comments! Especially if you take action! :)
Big Love to yoooooou, xoxo,