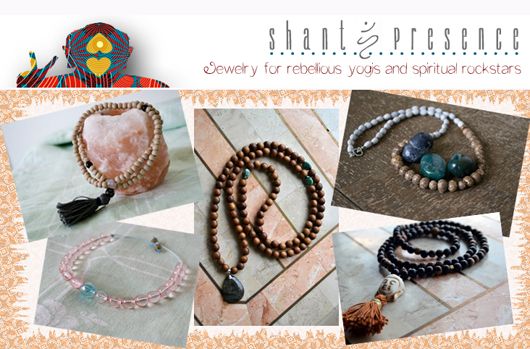 Shanti Presence
Jewelry for Rebellious Yogis & Spiritual Rockstars
20% off until April 26th, use coupon code:

KINDOVERMATTER

upon checkout!
Shanti Presence Mala beads
are for you if:
You live your life in a way that makes YOU come alive.
You don't mind stepping away from tradition.
You have a free, wild, spirit.
You believe in creative expression.
You like to wiggle and dance during your yoga practice.
You smile when you fall out of balance poses.
You want to spread peace and presence to everyone you encounter.
You don't hold your farts during meditation ;)
You have a lot of love in your heart to share.
You listen to your inner guru.
You are a rebellious yogi.
You are a spiritual rockstar.
You don't care about the labels, you only know that you exude awesomeness.

Connect:
Etsy Shop :: Facebook :: Twitter :: Shanti Presence :: Dyamond's Blog

GIVEAWAY TIME!


Not only is
Dyamond
giving you all a generous discount code (see above) but she is giving away
THIS gorgeous mala
to one lucky reader!
Click here
to learn more about this mala!
---
To enter:
1. Visit
Shanti Presence
, browse around, pick your favorite piece & come back & comment with which one you love! Don't forget to leave your email address so we contact you if you win!
Quick-n-easy copy & paste:
Your Favorite Piece at Shanti Presence :
Your email address :


Good Luck & Love everyone!


---
(A wee testimonial for Dyamond's work, I own a couple of her pieces & have two on the way! I am working on a custom mala with her right now & I am beyond excited about it! I adore her work! She takes great care & peace in the making of & you can truly feel the positive energy, the love, radiating from it. Divine.)