Click or Right Click, Save As:
Love Is All You Need Poster
PDF
I absolutely LOVE making these posters! Out of the
60+ printables
I've created these posters are my favorite. I've gotten emails from so many lovely people letting me know that they printed up a stack of them & covered their community, college campus or high school with them. They've hung them up in the window of their brick & mortar store, their local grocery store, co-op, bookstore, coffee shop, in the common area of their apartment complex, their break room, teacher's lounge & office. They usually mention that hours after they hung them they went back to check & most of the tabs were gone.
One of my favorite stories comes from a lovely working with a group of fellow students to bring an LGBTQA-friendly (Lesbian, Gay, Bisexual, Transgendered, Questioning & Allied) Sorority to Mississippi State University – last June. She said:
While a sorority does not seem like the first thing that would help encourage more open mindedness in Mississippi, we would like to believe that a sorority and sorority associated traditions, being open to all, might help those with closed minds to see that there is not as much difference in the world as they would like to believe. We also believe that the sorority will serve as another option for those in the LGBTQA to have a safe social space and feel supported during their college experience.

As part of our pledging process we would like to include Kind Over Matter. One of our organization's goals is promoting self acceptance and creativity. We feel that including Kind Over Matter will not only give our pledges a sense of community but also help those in the community with positive reinforcement. We would like to have our pledges place Free Compliments and Positive Thoughts posters on bulletin boards and in bathroom stalls all over our campus as part of our pledging process.

Our concern would be making sure Kind Over Matter would be okay with an organization such as ours adding to your positive movement! We feel that Kind Over Matter is a remarkable campaign and we would like to spread awareness on our campus and in our community.

Bright blessings,
Delilah "De" Schmidt, Delta Omega Lambda
I was so incredibly blown away by her email. I sat there, tears pooling in my eyes & kept whispering, Yes, Yes, Yes…
And then I promptly called my mom & was all kinds of Eeeeees & Ahhhhhs & OMGZ & Yeses & This is so wonderfully insane & more Eeeeeees!
I emailed her back, so frakin' excited, telling her:
Your email made my day.

Please, please use them. I am both humbled & honored that you want to use them as part of your pledging process!! Wow!

I am rooting for you & sending you big waves of love & light — & am behind you 103%.
And this is why I do what I do… to open minds & hearts. To help others shine their light, while I shine mine. To connect you with the tools, people & thoughts, should you need them, while encouraging you to shine in the real truth of who you are. You at your purest form. Forget your stories, forget your thoughts, you are not them. I mean who you are without them, when your mind is quiet & you are present. That you. That beautiful, magnificent YOU. That's where peace, joy & love live. That's where you can connect with the divine.
At the beginning of the year I revamped KOM's About page. It had been a year since I had changed it & things around here had transformed, yet again. I started with the intention of getting quiet & tapping into what was really going on here in this space, along with the beautiful connections. It states:
Kind Over Matter is a community of loving souls changing the world & we would love to have you join in on our efforts. Sound lavishly overstated? It's not.

What are we doing exactly? We are leading authentic lives doing what we love & by sharing that, by giving it a voice, we are helping more people step into their dreams & greatness.

What does this have to do with Kindness? Well, I'll tell you.

When you are tapped into & share your most real self, when you shine your light without fear & shame, when you are open to grow, to be creative, peaceful, loving, when you tell your story — you are doing the world & yourself the biggest Kindness.

Why? Because you are giving others the permission to do the same – one soul at a time – by holding on to your self-worth, your self-respect, by doing good, by being a beacon of kindness & love – you set an example, when like-minded people get together, it forms community & that acts as one big permission slip to the world.
After it came out, I read it over & it felt incredible, I put up, a little time passed & then…
My inner-critic (I often think of her as being my backseat driver) she was all like, Woah, woah, woah Amanda, hit the brakes, hit the frakin' brakes! Who are you to claim this? Who? Are? You? To claim such bigness?!?! – flailing her arms all around above her head & almost jumping up & down on the seat. My foot started to shift toward the brake… I then consulted with two of my favorite people, a little freaked out because I LOVED the direction KOM was going, WTH! They assured me that it was so inline with what KOM is:
Inspiring people so they can inspire others — in whatever way feels right for them. Be it in art, in service, in our everyday lives — by doing good for ourselves & others. Working on what's inside your beautiful, precious & one-of-a-kind self so that you can inspire others to do the same, so we all can walk in the gorgeous light of who we are.
The same day I received two love letters from readers & it assured me that Yes, this bigness is real.
I often think of KOM as being a path, as time goes on, that path widens making room for others to walk with us, to share who they are & what they are doing in the world. That path is constantly expanding & contracting in width because more people are joining us on our journey– & then they find or continue on their own path, veering off ours, not entirely but in their own way, so they too can share their gifts & aid in making this world a better place to be – in big AND small ways.
Lesson : Love yourself darling, love the truth of who you are, share your gifts, not just here at KOM but in your every single step, so that you can spread that love to others & watch it ripple across the globe.
Big Love & deep respect, thank you for letting me be myself here, thank you for helping me change the world,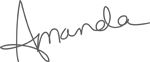 P.S. If you love the poster above check out the others, if you haven't already!