Guest Post by Amy McRae for the Kind Kindred series.
Ripples of Christmassy Kindness
Blame it on the Muppets
or the way I'm wired: I'm a sucker for feel good Christmas songs and movies -- an idealist at heart. The faintest whisper of Christmas approaching gets me all "Let's just love each other and change the
world
!"
Then I remember the sheer volume and senselessness of waste that we see during the holidays. Or our belief that Christmas isn't Christmas unless it's accompanied by anxiety and stress. It all feels wrong and unkind, and kinda puts a damper on my enthusiasm.
This was back when I thought that the only eco-friendly things one could do at Christmas were making CD ornaments and switching to L.E.D. lights. (A tad uninspiring, to say the least.)
I barely remember now how it happened, but a couple years ago as I thought about the importance of being kinder to the planet, I stumbled upon
a tutorial for making gift bows
(the most gorgeous ones I'd ever seen, might I add) out of magazine pages. Initially, I thought, "How great for the environment! Saving old magazines and also limiting the need for manufacturing, packaging, and transporting (far less attractive) storebought bows!" Win for niftier wrapping, win for the environment. They quickly became addicting to make -- that was a win for quenching my creative thirst. Then, I realized I was saving money too -- win for my wallet, no matter how small. And it wasn't about being cheap -- every dollar I spent or didn't spend was creating the better world I envisioned rather than going into a big black hole.
Suddenly, I was thinking of all sorts of easy opportunities to change the way we did Christmas, and they all created the same sort of domino effect of kindness and wins! I couldn't remember (and still can't remember) a time when I'd been more thrilled and inspired. Through a single kind intention, I'd found that loving, joyful Christmas I'd always longed for, free of that familiar feeling of powerlessness. As if that weren't good enough, my perma-smile was certainly another major win for everyone around me.
So, as it turns out, that nagging feeling of dread we get when Christmastime rolls around isn't a curse -- it's our cue to get honest with ourselves. It's life, whispering to us that there's a better way. Somewhere in the resistance, there's an opportunity for kindness.
I've gathered
47 pages' worth of "better ways."
But I want to know from you, too:
How can you create more kindness this Christmahanukkwanzaayule? How would that kindness ripple out?

Wishing you a win-ful, inspiring
(winspiring?)
Christmas!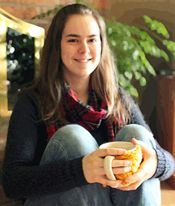 Amy McRae recently re-launched Joy to the Earth, an eGuide written to help you design Christmas in a way that sits right with your soul. It includes access to a friendly, supportive, and very resourceful Facebook community, and until November 30, $1 from each copy is donated to The ChariTREE Foundation (another win!). She loves Twitter and Pinterest, so you'll find her there!