Guest Post by Vivienne McMaster for the Kind Kindred series.
Seeing Ourselves with Kindness
Often when we look at an image of ourselves, a part of our thoughts emerge that is, well, not kind.
I know that experience well. You might think, because I take regular self-portraits and share them publicly that I don't feel that way.
Here's a secret for you.
You have control of the way you see yourself.
So simple, and so true, isn't it. At first it may feel like you don't, like those voices criticizing you come from someone else who once said it to you, or that you think these things of yourself and surely everyone else must too.
They don't.
You are in charge of the way you see yourself.
You have the potential to see and love yourself with kindness.
How the heck do you make that happen? First step, I'd say is to take a deep breath. Always a great way to start a brave journey, isn't it.
Then I'd say we need to find a tool to help us make that change. I like to use the tool of taking self-portraits as a way to actively engage in creating an image in which I see myself with kindness. Sometimes it takes shooting 100 photos to get 1 that embodies that, but it is worth it. Sometimes it will be the way I am looking myself in the eyes in the photo, or the sway of a skirt that feels like it tells a story of who I am.
I don't take self-portraits because I am at peace with my self-image, rather I do it in order to be that way.
Realizing you are in control of the way you see yourself and actually having a tool at hand to manifest it can be transformative.
Today it is Hallowe'en and a day when we can create an alternate self to be for the day. Sometimes when we explore turning the camera on ourselves it is really empowering to dress up and create a character to share. So I thought today might be a good day to invite you to try turning the camera on yourself! You could try holding it at arms length away or setting it on the counter. If you are a parent, you likely will be taking photos of your kids in their costumes so why not invite yourself into the story of their hallowe'en whether you are in costume or not.
Remember though that you are in control of the way that you see those images and today is a fabulous day to start doing so with kindness
I thought I'd share a few images that have been taken by some fabulous folks who I've met through my classes and I hope their creative adventuring might inspire you to start using self-portraiture as a tool to seeing yourself with kind eyes.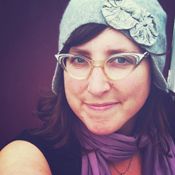 Vivienne McMaster is a Photographer and leader of a series of online photography workshops, including the self-portrait class You are Your Own Muse and the light discovery course Light Hunters. She can often be found with a multitude of cameras wandering her neighbourhood in Vancouver, British Columbia taking photos. Her favourite Hallowe'en costume was when she dressed up as bubble gum.