Hey lovelies! Happy Monday! My friend Dave is launching his super-impressive first book,
Lead Without Followers: How to Save Our World by Radically Redefining the Meaning of Leadership
today, I am over the moon excited about it & happy to help him spread the word. I'm almost two-thirds of the way through the book & it's brilliant. The message is remarkable, needed & I really love how his personal journey is woven through it, how he got to this point in his life is inspiring. You can check out his site to get the
digital package
(which has many awesome extras! Or get a free sample chapter first!) or get the
paperback
or the
kindle version
(with a very limited launch offer price) on Amazon. Thank you Dave, I am simply blown away by how well you executed this! I'm rooting for you! Big time! Enjoy! xox, Amanda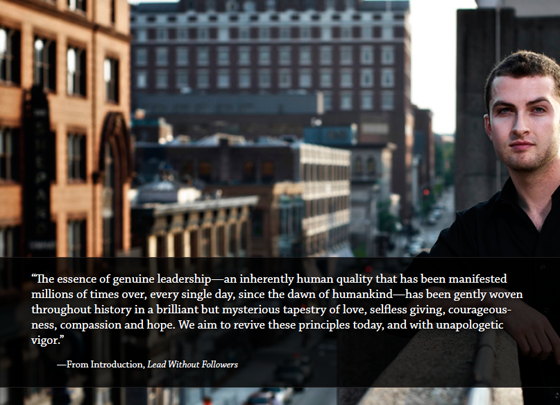 Guest post by Dave Ursillo.
Will Kindness Save the Meaning of Leadership?
Kindness is a warm word. Positive. Good. Fluffy, even.
Leadership, on the other hand, has become a dirty word. And political leadership has become the dirtiest form of all leadership. When we talk about our modern elected leaders, the word alone makes us think of corruption, ineptness, anger and impatience.
However, in my new book
Lead Without Followers: How to Save Our World by Radically Redefining the Meaning of Leadership
, I argue that rethinking what it means to be a leader -- inverting that "dirty" negative association with what leadership means -- can significantly change our lives for the better, on individual and collective levels.
In fact, you might say that my book's alternative leadership philosophy argues that "kindness" can save the very meaning of leadership itself.
Lead Without Followers is a radical reinterpretation of what it means to be a leader.
We're living today in a disturbing era: an escalating atmosphere of unbridled anger with our modern elected leaders; venomous partisan bickering in Washington D.C. and an uncharacteristic but prevalent pessimism shared by the American people. It truly feels as if our world is at a crossroads.
As cynicism and hatred become the modern political status quo, America's ever-important place as the leader of the free world is falling into severe question.
But if you and I are not leaders in any traditional sense of the word, what can we do to change any of it?
We could either become those leaders, or radically redefine what it means to be a leader -- and suddenly realize that we are already leading in our lives, simply by embodying positive human traits and qualities everyday like compassion, forgiveness, happiness and kindness.
Lead Without Followers
invites readers to abandon the political sphere in order to embark upon a unique personal journey to discover an unconventional and profound form of "quiet" leadership that can be embodied by men and women in any walk of life.
You see, I gotta tell you a little secret...
In a lot of ways,
Lead Without Followers
is not about "leadership" at all.
What you discover by exploring my book is that real, genuine and earnest "leadership" has less to do with today's confining and convoluted definitions -- and all of the dirty associations we think of -- and is far more about becoming
more human.
To become a leader, all one needs to do is to reach into our shared humanity -- all of the common positive human traits, qualities and emotions that we all innately possess and can access like tools at our own disposal. They include positivity and hope, love, selfless giving, compassion and many more.
Leadership is about human beings becoming as human as they possibly can be -- not gaining the most "stuff" and external recognition that they possibly can.
That means that we can all be leaders.
And
that we already are leaders.
Always. Right now.
In spite of the negative associations we have today with the word.
And maybe -- just maybe -- we can begin to change that with just a little kindness.
Dave Ursillo is a 25-year-old former "politico" insider turned alternative leadership writer, author and speaker. He can be read at DaveUrsillo.com.