Guest Post by Kat McCullough for the Kind Kindred series.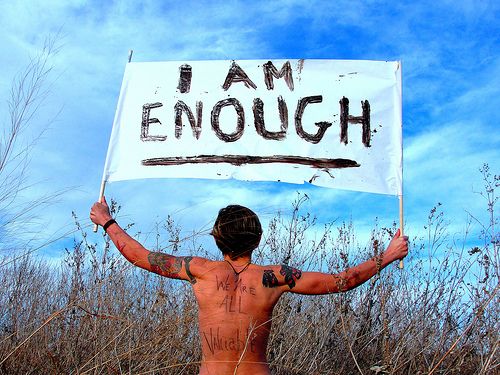 photo by Kat McCullough

Compassion supplies the complement to loving-kindness it is emphasized that in order to manifest effective compassion for others it is first of all necessary to be able to experience and fully appreciate one's own suffering and to have, as a consequence, compassion for oneself.
-
Bhikkhu Bodhi
Kindness Starts with the Self
...Because frankly, you just can't transmit something you haven't got.
I jokingly say I turned into a Buddhist by accident, and that's probably mostly true. I didn't set out to transform my idea of kindness and compassion, it just sort of happened. I began an extreme internal excavation to transform everything that I had believed to be true up to that point. I was rewiring the wiring, erasing old tapes that no longer served their purpose.
I used to be programmed to say horrible things to myself. I had a self-defeating attitude that said things like, "Nothing you do is good enough. You're worthless." I walked around feeling an incredible amount of shame and self-loathing, evidently picked up through the years by carrying other people's shame and self-loathing. Trust me, it happens—this business of projection is very real. These old messages kept me locked away in a black and white world, while everyone else was experiencing the world in the grays. This narrow beam of focus was about measuring my insides against other people's outsides.
But how did shame and self loathing affect my ability to be kind? Let's look at a compliment I might have paid someone when I had an immense feeling of inadequacy... did I mean it? The answer is quite simply no, because I lacked any authentic connection with my own truth, therefore I was unable to speak from an authentic space in order to honor someone else's truth.
If I pay a compliment from this space, there is nothing genuine backing it up, therefore it is false. A lie. A ruse. Sure, in some ways it is the accepted "polite" thing to do, but being inauthentic isn't polite at all. It is falsehood. Ever get the sense from someone that they aren't being quite honest with you? There's a misstep, but you have no way to clearly define it since it remains hidden. It's that subtext that brings doubt into the exchange, and in this culture, we do it all the time. We ignore what we feel and go with what's on the surface, constantly discounting our true nature, which knows the truth. Our "knower" knows, and on some levels, when I was saying "Good job," but tearing down someone's accomplishments in my head, they had to have sensed it. I didn't believe it any more than they could or should have.
So why couldn't I simply applaud someone else's accomplishments? Because tearing down my own accomplishments is exactly what I did to me— of course it stands to reason I would do it to you. Call it a survival mechanism. I had to play the one-up/one-down game with everyone— someone always had to be better than, and someone had to be less than, because so much of this life is grounded in power and control and not in honoring one another's truth and equality.
I also had an intense need to be perfect so that I might finally get the long needed affirmation that I was somehow good enough. My self worth was directly tied to outside approval— and usually to people who were absolutely incapable of granting it, since they were just as broken and needy in those areas as I was.
My unrelenting pursuit of perfectionism created an environment ripe for two things to happen:
1) Disappointment and self-defeat were automatically built into the equation.

2) You out there were held to an impossibly high and completely unattainable standard to ensure I was always feeling let down and better than.
(Ah, you just gotta love self-fulfilling prophesies!)
I would then whack you about the head with your inadequacies— which were actually my own inadequacies projected onto you, since, My God! Someone has to be acting right around here so I can feel comfortable! Keep lying to me, keep the denial IV drip going! Don't let this ship go down in the sea of honesty because I'm POSITIVE I will find things that will kill me. PANIC set in. I was a fraud. Scared of my own honesty, since I had been covering up that honesty for so long, terrified you would see the truth about who I was— not the good things about who I was, but the sticky messy human parts of who I was. I was acting from a space of intolerance, judgment, control, and fear, and my actions and choices about my interactions with others were coated with these subtleties. Perfection allows no room for humanness.
A few months ago, I stood in my study, frozen, immobile with the complete and utter realization that everything starts with me. Love, kindness, compassion, empathy. I didn't have any of those things for myself, so how could I possibly genuinely offer those things to you?
No longer able to escape or to evade the experience of feeling a feeling, I was transformed by standing, for the first time, in my own pain and my own vulnerabilities and tender spaces and fears, and by learning to breathe through them.
I had to really feel it. And I had to grieve what I had always held as insurmountable grief, the sort that is not survivable--or so my fears would have had me believe. I was about to change, and all change brings grief. I was experiencing the dying away of an old idea and ways of living and habits and, in a nutshell, the very things that I clung to in order to feel safe. I had to let go of any attachments I had to my illusions of safety. Whole walls I had built to protect me, but which kept me unable to truly know or be known authentically by another human being.
I had to become vulnerable, and I also had to admit I didn't have a clue where to begin. The fear of not knowing what I would discover about myself was intense and big and scary. What if I allowed another person to see me, and they rejected me? Me was all I had. But something had to die, and something had to be grieved, because my way of doing things simply was not working anymore. I couldn't handle the pressure of self-inflicted inadequacy a moment longer.
Turns out, I can handle my own feelings. They didn't kill me; I didn't die.
Eventually, I would hear the old tape queue up, and I would respond by saying, "That's not true. I'm good at lots of things." And I learned to give myself credit for the most basic of tasks done well, no matter how ridiculous it sounded. If I practiced anything in my self care arena, I got to say out loud, "Good job." And so it was, I was born into my own kindness and compassion, so that I could go out into the world and hand you those same things.
I know what standing in our own humanity feels like, tastes like, looks like, and how it scares me into behaving in strange ways. I get it. My life today is much calmer— you get to be you and I get to be me. My so-called "weak moments" are ones most everyone else would call being human. But it used to be that my reaction to the human parts of me was so severe and judgmental I could scarcely look the world in the eye. That isn't the case today. I can see myself— the good and the bad and the downright confusing— and practice kindness with myself first. The world receives the benefit of my inside job: As I go out into the world, looking it in the eye and loving you and accepting you and being kind to you for exactly who you are and where you are has finally become a practice.
Let it always begin with me, always.
Kat McCullough is a collector of adventures, like-minded souls and random scraps of paper. Considered by friends and family to be a lightening rod for weird, she surprises nobody when she adds new stories to her gallery of the unbelievably fantastic. Kat is the founder of a terrific company called Parachute Promise and is currently discovering her authentic voice through self-portraiture, writing, and truth-seeking. Find her on Facebook & on twitter @parachutepromis.


| Learn the craft of knowing how to open your heart & to turn on your creativity. There's a light inside of you : Join us here :
Be Gentle, Be Love : 30 Days of Cultivating Your Virtues with Creativity
|