Poetry by Rebecca Schumejda.
Sunflowers
for Kaya
You drop seeds
into the holes
with your pinkie.
You don't understand
what waiting entails
or what's at stake
if what we plant
doesn't come
to fruition.
So small
your fingers
against
the backdrop
of this absurd word,
that it's impossible
to imagine
my hands were
once as delicate
as yellow petals.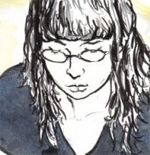 Rebecca Schumejda is the author of Falling Forward, a full-length collection of poems (sunnyoutside, 2009); The Map of Our Garden (verve bath, 2009); Dream Big Work Harder (sunnyoutside press 2006); The Tear Duct of the Storm (Green Bean Press, 2001); and the poem "Logic" on a postcard (sunnyoutside). She received her MA in Poetics and Creative Writing from San Francisco State University and her BA in English and Creative Writing from SUNY New Paltz. She resides in New York's Hudson Valley and online at rebeccaschumejda.com.
| Learn the craft of knowing how to open your heart & to turn on your creativity. There's a light inside of you : Join us here : Be Gentle, Be Love : 30 Days of Cultivating Your Virtues with Creativity |