A list of silly April Fool's Day Pranks + Free Printable Fake Parking Ticket + Free Printable Faux IRS Audit Pack + Prank vs Prank on YouTube (some vids not nsfw)
Two powerful posts by Kate Swoboda : choose your masters wisely & all you really need to do is breathe
A Letter To My Younger Self by Jen Saunders
Zen isn't a habit by Karen Maezen Miller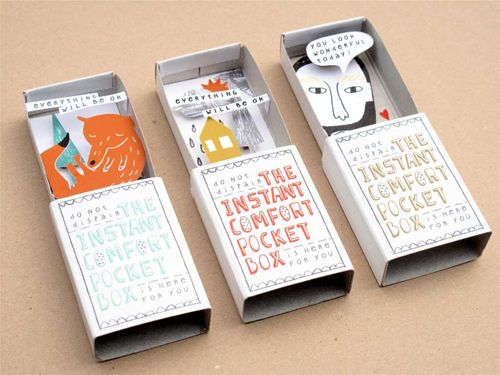 These Instant Comfort Pocket Boxes are so sweet!
Just a few awesome blog posts inspired by Be Gentle, Be Love:
Joyfulness & Making Art
Fragility & Kindness
Love, it happens when we open our hearts
Serenity Triggers: the Dance of Smiles
Musings on Strength
Musings on Joyfulness

If you ever had trouble forgiving someone, the above video by Marie Forleo is for you, wise-wise words.
Are you on Instagram? I am (kindovermatter) – here are 10 Totally New Ways to Play with Instagram!
Wash out your mouth with hope
Maria Shriver Interviews the Famously Private Poet Mary Oliver (found via Zen At Play)

The Laundromat Project is a community-based public art non-profit that brings arts programming to laundromats in the Greater New York area through two core programs: Create Change Public Artist Residency and Works in Progress. Both programs seek to raise the quality of life for people whose incomes do not guarantee broad access to mainstream arts and cultural facilities. (found via Etsy's Blog)

Smitten with these Printable Polaroid Camera Kits (found via Swap-bot)



Happy Weekend Lovelies,
see you Monday!
| Register here : Be Gentle, Be Love : 30 Days of Cultivating Your Virtues with Creativity |