Hello Lovelies! I wanted to put together a little post touching on the topic of sharing PDFs online made by someone other than yourself. Yesterday, on Facebook & Twitter, I stated about how you shouldn't link directly to someone's PDFs & there was some confusion about what I meant. I was asked to put together some earnest instructions… so here they are.
First off, let me just say, as bloggers, writers & artists, we love that you all share our Goodies! I mean, we really, really love it. I love getting emails & comments with links to your blogs where you shared about KOM's Printables or where you are showing photos of how you used the Printables, while sharing a link back to KOM, it really makes me super-happy because that's what I make KOM's Printables for, for them to be shared, printed & passed out into the world. I know I am not the only blogger who was been in this situation, so if you create digital products to share with your readers, please feel free to reference this post when you need to or please, put your two cents in the comments, maybe I forgot something!
So, here are a few tips on sharing…
Super Awesome:
When you are blogging about someone's PDFs, be it a free printable, worksheet or an eBook, make sure to link to the artist's blog post or blog, where they shared the PDF, that way your blog readers can hop on over to the artist's blog & check it out while downloading.
Same goes for Facebook or Twitter, make sure you are linking directly to the blogger/artist's blog, where the goodies are being shared.
I was asked another question yesterday that I want to address here too. If you are part of an organization, be it a school, church, anything of the sort & want to share KOM's PDFs (which I highly encourage!) you can share a link to Kind Over Matter or in this reader's particular situation, they couldn't access the PDFs from their school because the site where I host my PDFs (I have SUPER-BIG-LOVE for DropBox!) had been blocked. The best way I can think of to remedy that would be to put the PDFs on a USB Flash Drive or on a CD-R to take them into your school & then print them off.
Not Awesome at all: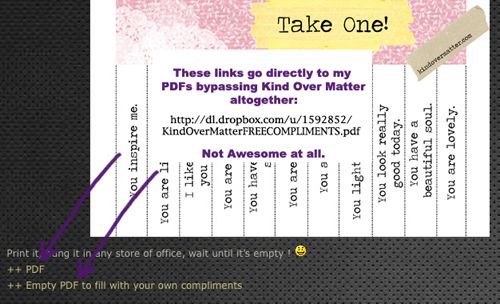 Linking directly to the PDF on your blog is just bad blogging etiquette. The artist who made the PDF is left out of the equation that way & more than likely, they put a lot of their time into their goods for their readers. Good content is meant to be shared but please, don't let the creator out of the story.
If you have any questions regarding this, please feel free to post them in the comments section!
ETA : This post was not meant to call anyone out or imply that you are not awesome if you have shared PDFs the "wrong" way – it's meant to be insight for folks that don't know that linking back to the artist is just the right & kind thing to do! xox