Happy Monday all you lovely beings you! If you have work or school off today due to President's Day, that's even better, I hope you are enjoying it! Either way, take the time to read this fascinating & inspiring story about an act of Kindness that George Washington carried out, it will surely warm your heart & stick in your mind forever.

Today, Jonathan Mead is joining our Kind Kindred family! I came across Jonathan last summer via his post on Zen Habits titled, How to Stop Acting Like Such a Big Baby, which affected me greatly. It was even the match that sparked one of my mantras for this year: If you feel a petty complaint erupting from your throat, breathe it back down with Love. So, I am really digging that he & his blog got a jump start because of a Kind act, so awesome! Too, he is generously giving away his book, Reclaim Your Dreams, to TWO commenters below! Thank you so much for sharing this amazing story with us Jonathan. Big Love & Peace to all of you, Amanda


take my hand, originally uploaded by Justin.Williams.
Kindness Gets You Ahead
A lot of people ask me how in less than six months of blogging I got to be a regular contributor on Zen Habits (one of the top 10 blogs on the web). I'll tell you how below, but it really came down to one thing:
kindness.
When I first started blogging I was amazed at the level of generosity there was in the social web. People authentically wanted to help. Not to get ahead or as some ploy to gain favors, but just to be genuinely kind. I was inspired by this attitude and begin ending all of my emails with "Please let me know how I can help."
Mary took me up on that offer. She was also new to blogging and had been struggling with getting her website working properly. She'd hired an agency to help her with tech related stuff but they were often unresponsive or unhelpful. So when things were broken I'd do my best to help her fix them. I didn't expect anything, or anticipate any future payback. I already knew that kindness is its own reward.
It just feels good to help.
A few weeks later Mary asked if I would be interested in writing regularly on Zen Habits. Apparently Leo was looking for a staff writer and wanted recommendations. I didn't know at the time but Mary had become close friends with Leo and was helping him with several projects. So of course I said
hell yes
. I would love to reach an audience like that. Not just because of the scale, but because the people who read Zen Habits are generally awesome people.
Mary repaid that kindness when she recommended me to Leo and I got the position. I was able to grow my blog from less than a thousand readers to over ten thousand readers in a few short months.
There was no expectation, but kindness is contagious. The more you give, the more others want to give back.
I'm incredibly grateful for what Mary did for me and the opportunity Leo gave me. I know my blog wouldn't be where it is today without their help.
While I truly believe that kindness is its own reward, it's also something that gets you ahead. And it's usually when you don't intend for it to.
---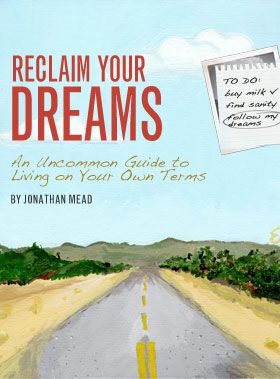 Reclaim Your Dreams
An Uncommon Guide to Living on Your Own Terms

Jonathan kindly offered to giveaway his book, Reclaim Your Dreams, to two commenters!

To enter:
Just comment telling us what your BIG DREAM is, along with your email address so we can reach you if you win!

Don't forget to head on over to the Illuminated Mind Armory & sign up to get Jonathan's Seven Keys to Discovering Your Passion FREE PDF & workbook + other goodies!

Comments will close & the winners will be randomly drawn & announced on Monday, February 28th!

Thank You so much Jonathan!

Good Luck & Love everyone!