Good Afternoon Lovelies! We are so thrilled to have Darrah join our family today with her inspiring post about beauty & how hard we are on ourselves. Her words ring so true. Also, as a bonus, Darrah is so graciously giving away a spot in her upcoming course, The Slice of Life Project! Thank you so much Darrah for sharing this reminder & your project with all of us. Good Luck & Love to all of you! xox – Amanda

photo by Darrah Parker
Just the Way It Is
I think I just realized something. Something BIG. My quest for beauty through the lens of my camera is really a quest for acceptance of my own beauty – in all its imperfect glory.
I talk a big game sometimes as I wield my giant camera around, snapping away. I tell people every day how beautiful they are. They rattle off everything that is wrong with them and jokingly ask if I can work my voodoo magic in Photoshop, eliminating the wrinkles, lengthening their legs, and slimming their midriffs.
And I tell them how beautiful they are – just the way they are.
I rarely meet a person who actually likes to be photographed. They tell me that they are not photogenic and that they hate to look at themselves in photos. They freeze up when a camera is in their midst and hide, memories of bad pictures from yesteryear floating in their psyche, causing them to cast judgment on their looks, their hair, their nose, their thighs.
And I tell them how beautiful they are – just the way they are.
I arrive at their houses to photograph their lives and they point out what's wrong with their homes (the clutter, the dishes in the sink, the mess their kids left) instead of what's right with their home (that it is their sanctuary, their refuge, a place they can call their own).
And I tell them how beautiful they are – just the way they are.
Then, I return to my own home and cringe when I walk in the door to see the pile of mail on the front table (that I affectionately refer to as the "Crap-cepticle"). I throw my bag on the floor, walk in the kitchen, and let out a deep sigh when I see the dishes that I forgot to wash from last night's dinner. Then I look in the mirror and my eyes wander to the spots, the lines, the places that I try so hard to hide.
Does this sound familiar? It's an exhausting way to live, but so many of us are wired to think this way. We are wired to look for what's wrong and not for what's right. We are wired to wish things were different than they actually are. We are wired to show more kindness to others than we do to ourselves.
The good news is that it doesn't have to be this way. What if every time we look in the mirror, we make a conscious choice to find something we like? What if when we open the front door at the end of a long day, we feel gratitude that we have a place to come home to? What if when we notice the overgrown lawn that needs to be mowed or the toys strewn across the living room floor, we pick up our cameras, crouch down low, and admire the details that make our lives unique?
What if we decided that life is beautiful – just the way it is?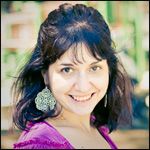 Darrah Parker is a Seattle-based portrait, family, and "slice of life" photographer. Armed with her camera, she is on a constant search for the joy in everyday life, beauty in the over-looked and under-appreciated, and the magic in simple moments. She lives with her musician husband in Seattle and can be found most days at a coffee shop or farmers market, usually with a camera in hand. She shares her photography on her website and thoughts on living a creative life on her blog.

* * * * * * * * * * * * * * * * * * * * * * * * * * *
SPECIAL GIVEAWAY!
Darrah is offering one of our readers a spot in her upcoming Slice of Life Project!
For more details on the course click here or read below.
Giveaway is closed but your comments are still welcomed & encouraged!

For a chance to win your spot, you must comment with your answer to this question:
Where do you find beauty in your everyday life?
We will be choosing & then announcing the winner in our regular winner's post this Thursday morning, the 11th! So comment now, don't miss out! Jenn & I are both really excited to take the course! We can't wait to see who will be joining us! Big, Huge Thank Yous & Hugs to you Darrah!
Slice of Life Project: Capturing the Everyday in Extraordinary Ways
Early bird, reduced-price registration open to my newsletter subscribers now! Sign up for the newsletter here.
Dates
January 3 to February 11, 2011
Workshop Description
Have you ever wanted to stop time? Hold a moment in your hands? Capture a slice of your life and turn into a treasure? In the Slice of Life Project, you will dig beneath the surface of your everyday life with your trusty camera by your side and unearth the beauty that has been there all along.
The Slice of Life approach to photography is a way of seeing, noticing, and appreciating the nuances and details that make your life special. It's a way of embracing and honoring the imperfections in yourself, your loved ones, your messy kitchen, and cluttered shelves. It's about saying that your life is just right the way it is. 
This workshop will not require the perfect camera or fancy lenses or knowledge of ISO, aperture, or shutter speed. It won't even require you to get out of your pajamas or make your bed! It will only require you to show up with a camera (ANY camera), an open mind, and a creative spirit.
More details about the Slice of Life Project can be found here.