I came across Danny's work a few weeks ago while I was bouncing around Flickr - I saw one of his custom polaroid paintings & instantly fell completely in love with the idea & his work! Imagine my excitement when we tweeted a call out for guest bloggers & he replied! Thanks so much Danny - I am in love-love-love with this DIY!! xox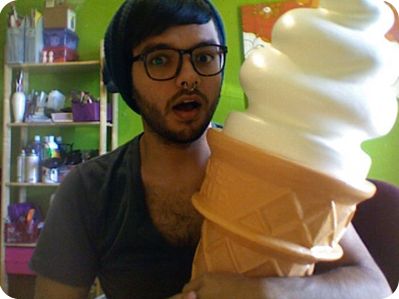 Connect with Danny here:
:: Website :: Blog :: Twitter :: Facebook :: Flickr :: Etsy Shop ::
:: raisethesails@gmail.com ::





I've sewn up this easy to make nerdy bear plush, I've called him "Sugar on top bear," with the intention of giving it to your very own valentine on valentine's day. You won't be needing a sewing machine for this, it's all done by hand. I want everyone to be able to do it. You can also add or elaborate to this design, maybe embroider the back panel with "Be Mine" or "I love you" If you're not that skilled with embroidery you can write it on a tag and sew it to one of his ears! Hope you enjoy this tutorial <3
Danny

List of materials needed:
- Download :
Sugar on top bear Pattern - PDF
- Pattern printed out
- Scissors
- Pins
- Sewing needle
- Thread
- Embroidery thread
- Felt (at least three different colors, any color combination you'd like to use)
- Plush stuffing like poly-fil
- Beads (optional)


Enjoy!!