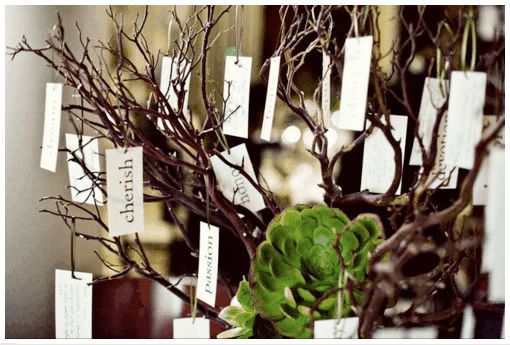 photo credit: Jerry Yoon
As I was browsing Jerry's site I came across the above photo which inspired our next printable download!
Printable PDF Downloads:
Kind Over Matter Wish Tree Cards PDF
Kind Over Matter Wish Tree Cards – BLANK PDF
All you need is a paper cutter/ scissors, hole punch & some twine or ribbon to hang them. You can write some of your hopes, dreams, wishes on the back of the worded cards or I included a blank PDF above for you to make your own!
Here are two sites that show you how to make the tree portion of this DIY, one is easier than the other but both turn out beautiful! Or you can find a pretty vase & bundle some nice branches & hang them off them, so many possibilities! I absolutely LOVE this idea for a wedding:
– Real Wedding Inspiration: Guest Book Tree –
– DIY Manzanita Tree and Wish Card Templates –
Enjoy!